Aubergine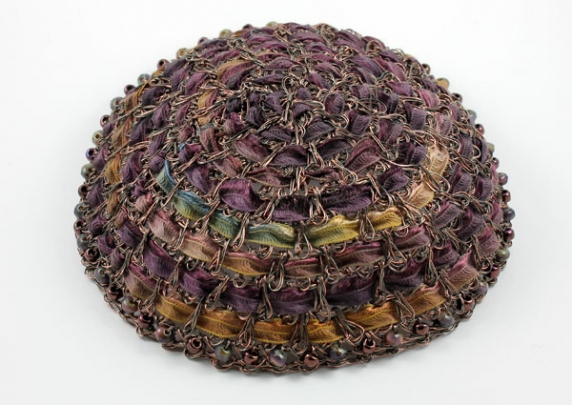 About:
CCH159: Antique copper crocheted wire kippah with eggplant/cinnamon/blue variegated ribbon yarn and beaded edge
Mixed Media Kippot:
Not your grandfather's yarmulke!
My mixed media kippot start as an open crochet stitch in copper wire with a beaded edge. Hand woven in to the structure are carefully selected yarns, ribbons, and ribbon yarns in a variety of textures and colors. Many use yarns of variegated colors which enable the colors to randomly fall within the piece, making each one totally unique.
A plastic comb is securely attached to each kippah to assure comfortable and carefree wear.
Custom orders are available to match a tallit or a dress or just because they are your favorite colors. All inquiries welcome!